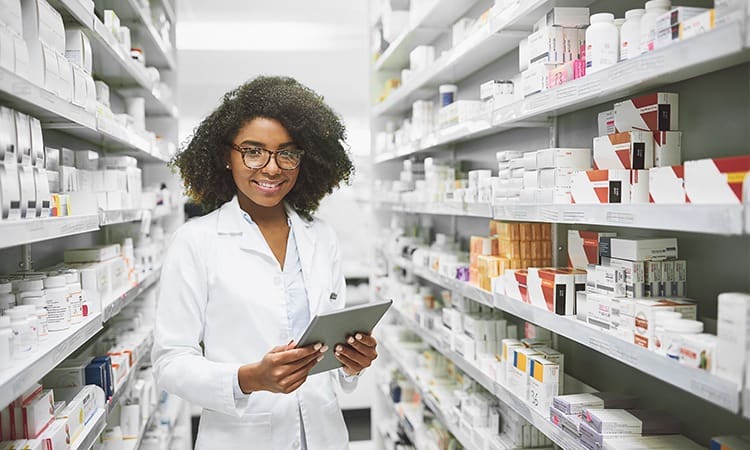 Our SkyPharma Care System is a patient-centered, outcomes oriented pharmacy practice that requires the pharmacist to work in concert with the patient and the patient's other healthcare providers to promote health, to prevent disease, and to assess, monitor, initiate, and modify medication use to assure that drug  treatments are safe and effective. The goal of SkyPharma Care System is to optimize the patient's health-related quality of life, and achieve positive clinical outcomes, within realistic economic expenditures.
Why SkyPharma Care
In SkyPharma Care System you will get following essentials features :-
Responsive: Displays beautifully in any devices with variant screen size. E.g. desktops, tablets, smartphones.
Admin dashboard, where admin can easily get information about total customer, medicine, manufacturer and daily & monthly different important reports with graph.
Admin will able to create any individual users role access permission such as sales man, operator, admin, in-charge, Accountant, manager and so many.
In Role Permission module, Admin can set role access for each admin/user sales man,  operator, in-charge, admin, in-charge, Accountant, manager, etc.
Admin can view all users information and their activities.
In this system tax, office and personal loan, Accounts, Attendance, Employee Salary, Stock and others report can be generated.
In this system also you will get Purchase, Expense, HRM, and Payroll Module.
Benefit of SkyPharma Care
Reduced risks of medication-related problems.
This will provide different business reports such as Sales Report, Purchase Report, Stock Report, Account Summary, and so many. And daily & monthly different important reports with graph are generated.
Features
Medicine Management
Add Medicine with the brand name, generic name, code number, bar-code, short-code, category, picture, purchase, sale, VAT percent, Opening Stock and Supplier name.
Entry or change the opening stock of each product.
Check the stock of any product at the end of the year or anytime.
Removal of waste products from stock
Determine the discount of products according to category or separately
Print bar-codes on a label printer or laser printer
Purchase Management
Create a modern POS invoice including every important detail
Purchase of cash and baggage products
Return or change purchased products
Print bar-code according to the purchase catalog
Coordination of previous purchase and present purchase price
Sales Management
Mode of sale of cash in arrears
Return or change the sale of goods
Subtraction of the remaining money
Demonstrate the time to sell the discount and make the sale price as requires.
Hold any bill according to need and then recall
Print sales receipt for A4, A5, A6 and POS Size
Customer and Supply Management
Creating customers and suppliers with names, addresses, contact numbers, email addresses and other necessary information.
Enter the opening balance between the customer and the supplier
View the stock and buy-sell list according to the supplier
View the profit/loss report according to the supplier
See customer and supply statements
Reporting System
Daily Purchase and Sale List
Daily Cash Collection and Payment
See stock reports in various ways
View any profit and loss report of any time
View the list of customers and suppliers
Information Management System
Record the contact information of your customer as a lead
Manage employee information details
Sooth the flow of your important message among the employee and others
Human Resources Management
Employee Salary
Benefits
Attendance
Income Tax
Invoice Creating System
Stock Management
There are two (2) types of stock report, First is the total quantity of all the products and second is Batch wise, you can also check the medicine expiration date
Service Management
You can add as many services as you want, service invoice can also be created
Return Management
Return is very important for a medicine shop, sometimes you need to return some products from customers. SkyPharma Care has a special system to keep records of returning drugs. you just need to insert the invoice number. This system also has the option to return the product to the manufacturer
Account Management
Chart of accounts
Manufacturer Payment
Supplier Payment
Customer Payment Receipts
Cash adjustment
Debit Voucher
Credit Voucher
Contra Voucher
Journal Voucher
Voucher Approval
Report Management
Today's Report
Closing Report
Purchase Report
Sales Report
Profit/Loss (Invoice Wise)
Profit/Loss (Manufacturer Wise)
Profit/Loss (Medicine Wise)
Cost: ₦450,000  ₦150,000